The Cambridge School of Graphology offers three correspondence distance learning courses for anyone who is interested in studying handwriting analysis.
New course – Handwriting and the Enneagram – coming soon
When you study on the Advanced Diploma Course you will analyse a range of different handwritings.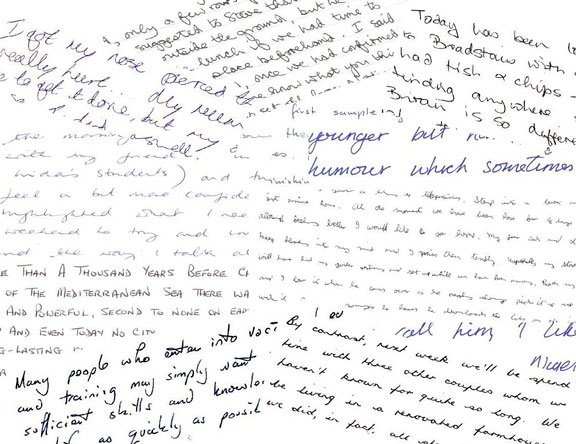 The courses have been specifically designed for home study. It is a different type of learning from traditional classroom study and is accessible to all adults with an interest in graphology. You can study handwriting analysis with no commitment to attend formal classes. You control and organise your time according to the way it suits you to learn. This means that you make the decisions as to how much time you devote to your studies and how quickly you complete the course(s).
The advantages are that you can:
study these courses in your own home
fit them around your other commitments
enrol any time – there are no fixed start dates
have unlimited contact with a friendly personal tutor
contact your tutor by email, telephone or snail mail
work through these courses at your own pace
ask questions and get help with problems as they arise
be regularly assessed on your progress
As always, disadvantages always exist in any enterprise. It would be unfair to say that there are none. You will need a great deal of motivation and self-discipline because there is no-one to nag you or pressurise you to move on from one assignment to the next. It will be solely up to you to complete the course(s). This may not sound as difficult as it would first appear, since analysing handwriting is such an absorbing interest. Once you get your teeth into it, there is no letting go. Letters and cards from friends or relatives will start to take on a new meaning!
Some people might feel this type of course is not for them as it is a solitary occupation but for the majority of students, it is the freedom to study when it suits, that they like.
No prior knowledge of graphology is required. All you need is an enquiring mind and an interest in learning about the complexities of human nature. As well as introducing you to the principles of graphology, this course takes you on a fascinating voyage of self-discovery.
We have students from different parts of the world studying on the Foundation, Advanced Diploma and Diploma in Forensic Graphology courses. Where you are situated in the world is irrelevant for this kind of distance learning course. As long as you can read and understand English, that is all that matters. A conference call using skype is also encouraged once a month for overseas students who can then discuss any problems they might be experiencing which an email alone may not be able to address.